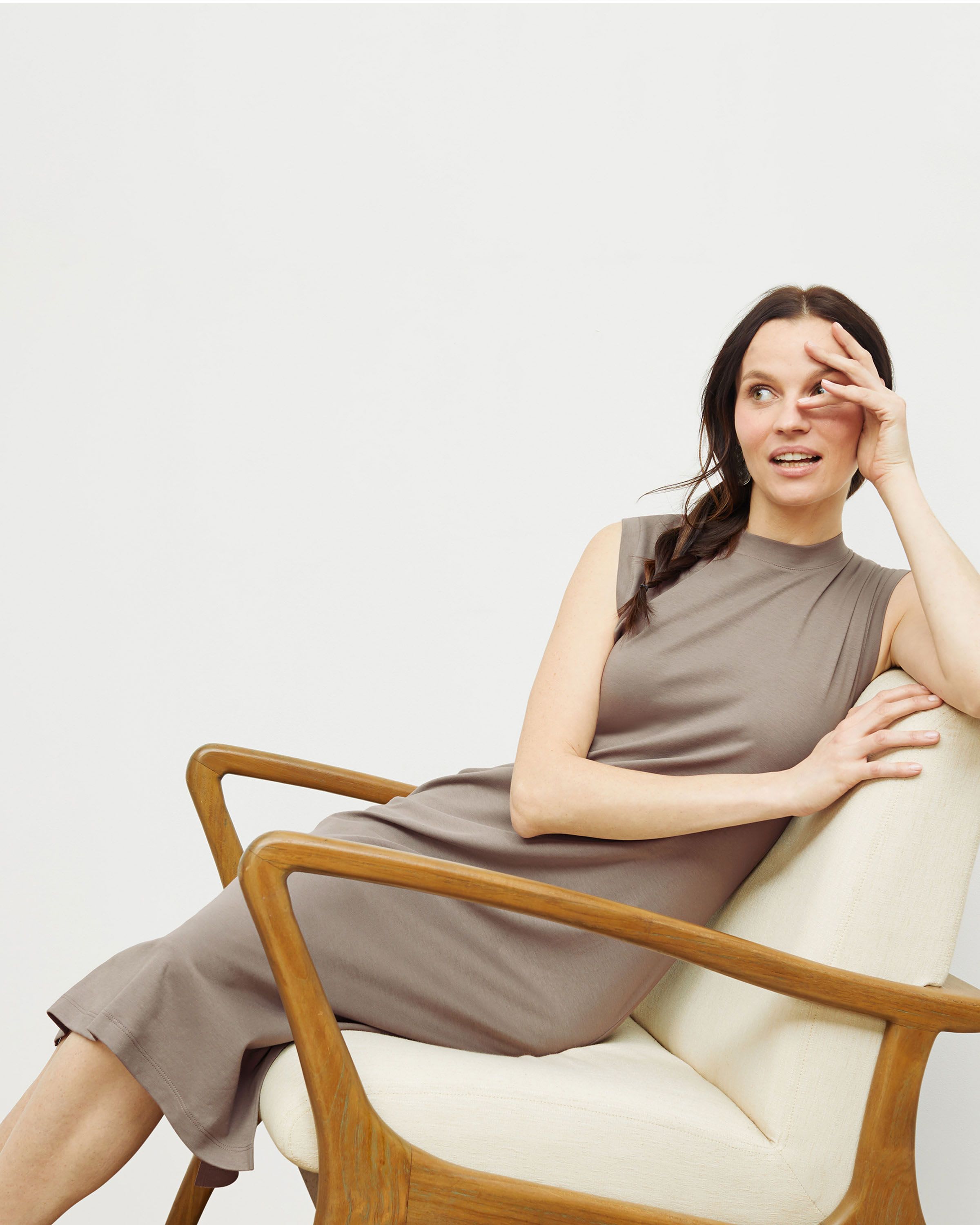 A 7-Piece Uniform for Re-Entering the Real World
A simple but incredibly chic uniform that's ready for picnics, coffee strolls, puppy playdates, and whatever else your life looks like right now.
In April of 2020, I wrote an article about my quarantine uniform. I assumed I'd wear it for a month or two before life normalized. Whelp, it took a little longer than expected…But, a full year later, with the vaccine circulating, we're finally starting to peek out of our burrows.
Of course, life isn't going to resume overnight. Many of us continue to work from home, and we're all wondering if our social skills are still intact (mine definitely aren't). But one thing is for sure: we are ready for…something! Change, novelty, picnics, hugs, really anything that indicates forward motion. And this sense of communal anticipation is a shift unto itself; we're entering what I call the "Optimistic In-Between." Day-to-day life is still slow and cautious, but there are glimmers of hope everywhere you look.
For me, this means it's time to pack away the cashmere joggers I've lived in all winter (thank you, trusty comrades—I'll see you in the fall) and adopt a new daily uniform that balances comfort, fun, and optimism. I want to dress with a sense of occasion—even if the occasion is still working from my couch. I'm craving adventure, but I still want to feel swaddled.  
As I navigate the Optimistic In-Between, these seven versatile pieces will carry me from quarantine to…whatever comes next.
---
1.
The Hockley Jean in Black
Priority #1: a super-stretchy, go-everywhere (or go-nowhere) pant that will anchor any outfit. I'll be able to wear the Hockleys while working from home, and I won't have to change before hopping on my bike to meet friends for sunset drinks in the park. Paired with a chic tank or a striped sweater, these jeans are truly up for anything—as am I. Who wants to hang out?
2.
The Alina T-Shirt in Thin Stripe
Whether you're venturing out or staying at home, you'll want to be in this super-soft staple, whose stripes evoke an easy French elegance. (Remember Jeanne Moreau in À Bout de Souffle? That could be you.) I'll pair it with the Hockley jean or the Rogala culotte, and transition seamlessly from Zoom to an unplanned nap (whoops) to an evening stroll around the neighborhood.
3.
The Lou Dress in Pebble
Every summer, I end up with one dress that just works, and I wear it non-stop. This year, the Lou is my pick. A versatile, washable sheath, this baby is bound to be my closet MVP. Made from sturdy Peruvian Pima cotton, the Lou goes from work to picnics to dog walks to weekend road trips. Throw on some sneakers, tie a sweater around your waist, and you can't go wrong.
4.
The Samara Sweater in Oak/Black
When it comes to spring layering, the Samara is the perfect subtle statement. Made from luxurious linen, its chic stripes will set a sophisticated tone on Zoom, but it also works for backyard dinners and spontaneous jaunts to the beach. Pair it with slim pants or an easy dress, and slide from spring into summer and beyond.
5.
The Vicky Tank in Pearl
I love the look of a slinky silk top, but I'm in no hurry to return to the dry-cleaner. The solution: the Vicky tank, made from luxurious-but-durable washable silk. A cross between a simple tank and a pretty going-out top, it's the perfect way to elevate your everyday look. Wear it with swingy culottes for an outdoor coffee meeting, or pair it with jeans for a casual date.
6.
The Rogala Stretch Culotte in Latte
Structured but swishy, eye-catching but easy, the Rogala stretch culottes are a work of design genius. Wear them for a brainstorming session on your living room floor, and then throw on a silky top and a light sweater for dinner with friends on an outdoor terrace.
7.
The Constance Dress in Poppy
I love my neutrals (see above six pieces), but once in a while, I like to make an entrance—on Zoom, on the street, in my own backyard, wherever. Enter the super-snappy Constance dress in the happiest color of all time: poppy! Structured, soft, elegant, and versatile, this dress is conference-room ready but also up for a frisbee session with the dog. (It's washable, after all.)